Mindful Colouring with Lovechock
Experience the art of mindful colouring and win your favourite Lovechock in a wrapper of your very own design! Let's add some lovely colour and make today a little brighter. Bring out your inner child and reach a peaceful state of mind.
Catching your mind wandering off these days? Getting bored, stuck in your thoughts or even worrying about the present and the future? For us at Lovechock, it's a bit of all of the above. So we've been eating lots of delicious raw chocolate but have explored other ways to calm the mind, too. Which is how we came to fall in love with the art of colouring to enjoy some moments of mindfulness and of focusing on the now. And as usual, we want to spread the love so we proudly present: Lovechock's Mindful Colouring!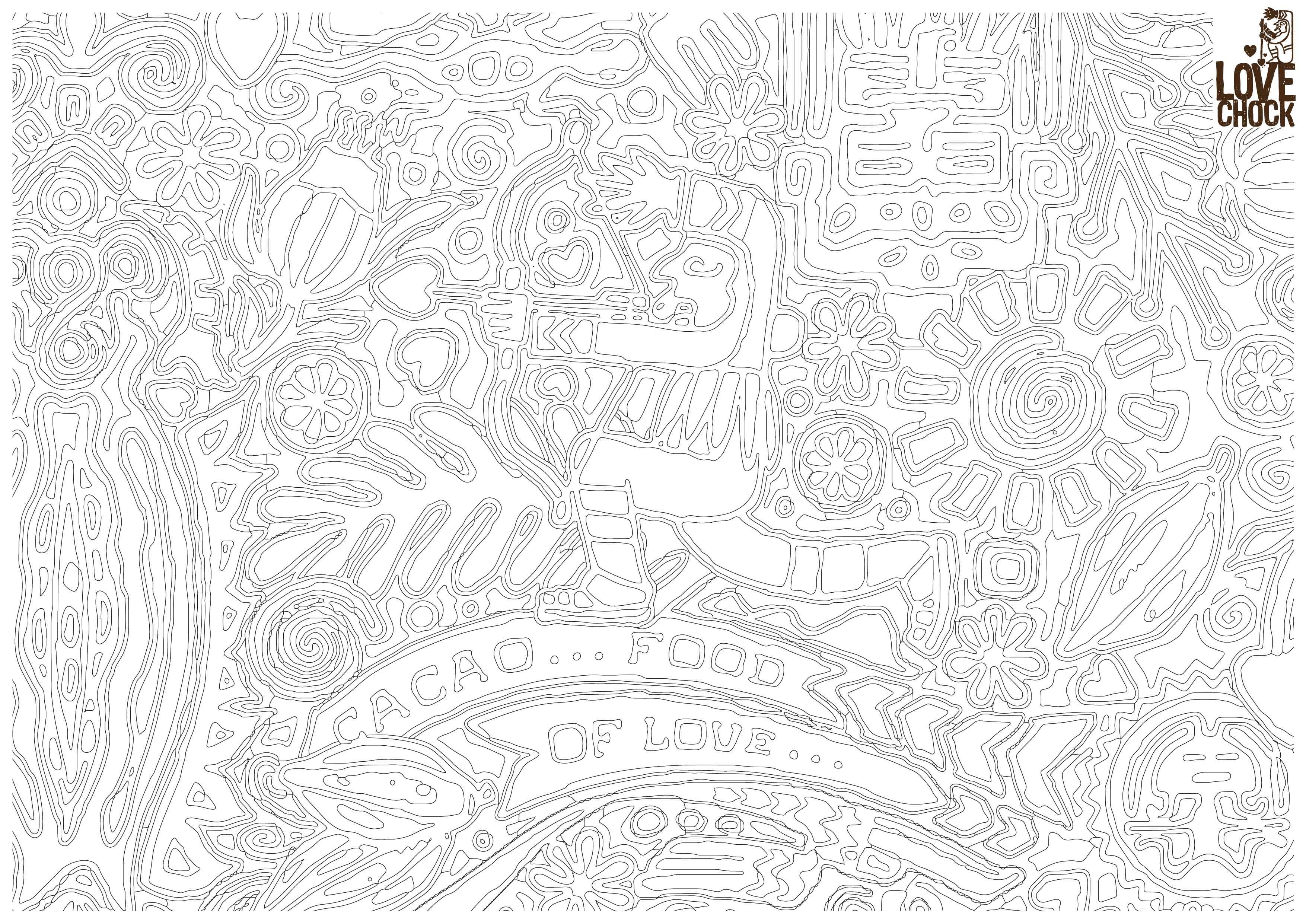 The Lovechock colouring template is taken from the inside of our wrappers. At the heart of it is Ek Chuah, the patron of cacao - and our brand icon. Download the colouring template and print it out. Then just start colouring away and hopefully, you will experience the calming effect while you let go of all those busy thoughts!
Benefits of Mindful Colouring
Boost creativity while improving emotional, mental and even physical health. According to the study in the Art Therapy: Journal of the American Art Therapy Association, mindful colouring deeply engages in an activity that removes you from the flow of negative thoughts and emotions. The act of colouring sparks brain activity in the parts of the brain responsible for creativity and logic. Focus only on the thoughts of how you choose and apply colour into a design. Your brain tends to relax and you'll achieve a state of peace/calm. You relieve your mind from the daily stresses of life. And training your mind to focus can boost your study and work results, too!
How to Win Lovechock In Your Own Design
**GIVE AWAY CLOSED** Colour some zen into the daily rush of life and win your favourite Lovechock chocolate in your own colour creation. This is how it works:
Print the Lovechock Mindful Colouring template. Download the template here.
Colour it in!
Post your creation on Instagram
Tag @lovechockofficial & #Lovechockcolouring
Keep your physical colouring at hand
Look out for May, 6th when we'll announce the winners.
Via DM, winners will be asked to share their favourite Lovechock flavour and a scan or photo of their Lovechock Mindful Colouring with us. This will be printed inside the wrapper for you to receive your favourite Lovechock in a wrapper of your own design!